School Shows.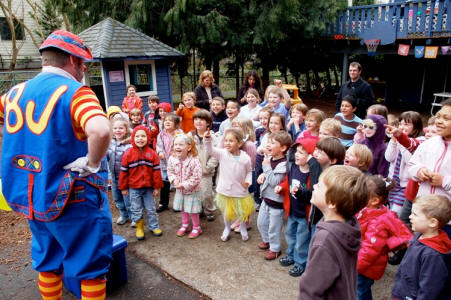 Click to Enlarge
After approximately 1500 shows at schools, libraries and other events, NOBODY knows more than BJ about what makes children laugh. A perennial crowd-pleaser, don't let this year go by without this show at your school!
Preschool & Kindergarden
An exciting 40 minutes of comedy, magic, juggling, music, storytelling, puppetry, physical comedy, & audience participation geared especially for Preschool thru K (although older and younger children will still enjoy it). Guaranteed to produce the largest laughs you've ever heard from the children.
Benefits to your school:
* Live comedy theater in your school broadens the children's learning experience.
* An experienced and professional performer reflects your school's quality.
* A great addition to a Circus Week or Holiday.
* The smiles on the children's faces.
Price: $200 (travel fees may apply outside of the Metro area)
(Note: Additional shows, same day/same location, can be added at a reduced rate)
Click to Enlarge
First Grade and Up
BJ has shows for First and Second graders and is also enjoyed by older children (but doesn't have a specific show for them). The shows have many of the same tricks as for the younger groups but the style is faster paced and "edgier". Since the children think they know how the tricks are done, BJ uses that to his advantage to get the big laughs.
Price: $200 (travel fees may apply outside of the Metro area)
(Note: Additional shows, same day/same location, can be added at a reduced rate)
Introduction to Clowning
A wonderful program for both education and for children with clown fears. BJ arrives at the school without makeup & costume and the children get to actively help him transform into a clown.
In the course of an hour the children get to:
* See & touch clown props, noses, giant shoes, etc.
* Learn a little about clowns while helping BJ with his makeup and costume.
* Laugh at a short clown show geared especially for younger or shy children.
* Participate in an interactive balloon or parachute game with BJ as a playmate.
The Camas Post-Record had a nice write-up of this program: Click here to read the article.
Price: $225 (travel fees may apply outside of the Metro area)
Note: This special show requires extra effort from BJ to clean up, wash, & repack between shows, please understand that it will not be available on all days. Please call or email to schedule this special performance.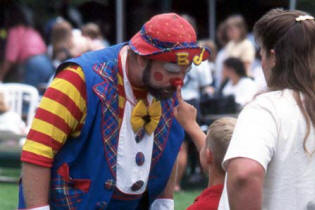 Other School Clowning
BJ is available for Carnivals, Field Days, End of School Programs, Picnics, and many other events. Rates and performances vary on a case by case basis. Please call or email to discuss the various options and rates.
Related Pages
Other pages of interest to School Show clients:
References & Photo Page & Clip Art
Call us for advice, referrals, ideas, or just to talk: We can make your event a success!
(503) 282-2000
.
BJ the Clown
503-282-2000
PO Box 55604
Portland, Oregon 97238
Celebrating 12 years & 3000 performances!
Exciting comedy Shows – Magic – Games – Balloon Art Facepainting – Puppets – Music – and More!
Experience & reliability you can trust!
Email: bjclown@aol.com
Serving the Portland and Vancouver Metro area including Beaverton, Tigard, Hillsboro, Tualatin, Lake Oswego, Milwaukie, Gresham, Camas, Oregon City, Willsonville, Canby, and most of Salem.